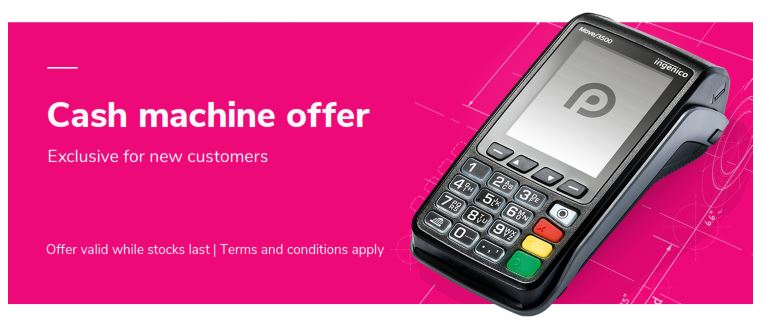 Click here to claim Your Cashback Offer*
*This offer can only be redeemed 120 days after you make your first transaction using the card terminal. If you submit your claim before this time, you will need to resubmit once the full term has passed.
Terms and conditions 
To take advantage of the Offer you must have processed at least one transaction on the applicable terminal in the Offer validity times specified with your Offer code. 
Offer available while terminal stocks last
Offer can only be redeemed a minimum of 120 days after the first date you process a transaction through your terminal. Any attempts to redeem the Offer before this date will not be accepted.
To redeem the Offer go to www.paymentsense.co.uk/cashback and enter the following information:
Your Name

Company Name

Offer Code

Merchant Identification Number (can be found on your statement)

Email Address
Offer must be redeemed by 180 days after the first date you process a transaction through your terminal. Any attempts to redeem the Offer after this date will not be accepted
Paymentsense will use the information supplied above to match the Offer claim to our records
Offer claims will not be accepted if any of your contracted accounts are in arrears and/or you are no longer an active customer at the time of processing the claim
All successful Offer claims will be processed and your account will be credited with the appropriate cashback amount within 28 days of you submitting your claim
For assistance, please contact a member of the Customer Service Team at customerservice@paymentsense.com
The decision of the Paymentsense Customer Service Team is final
You agree to be bound by these Terms and Conditions