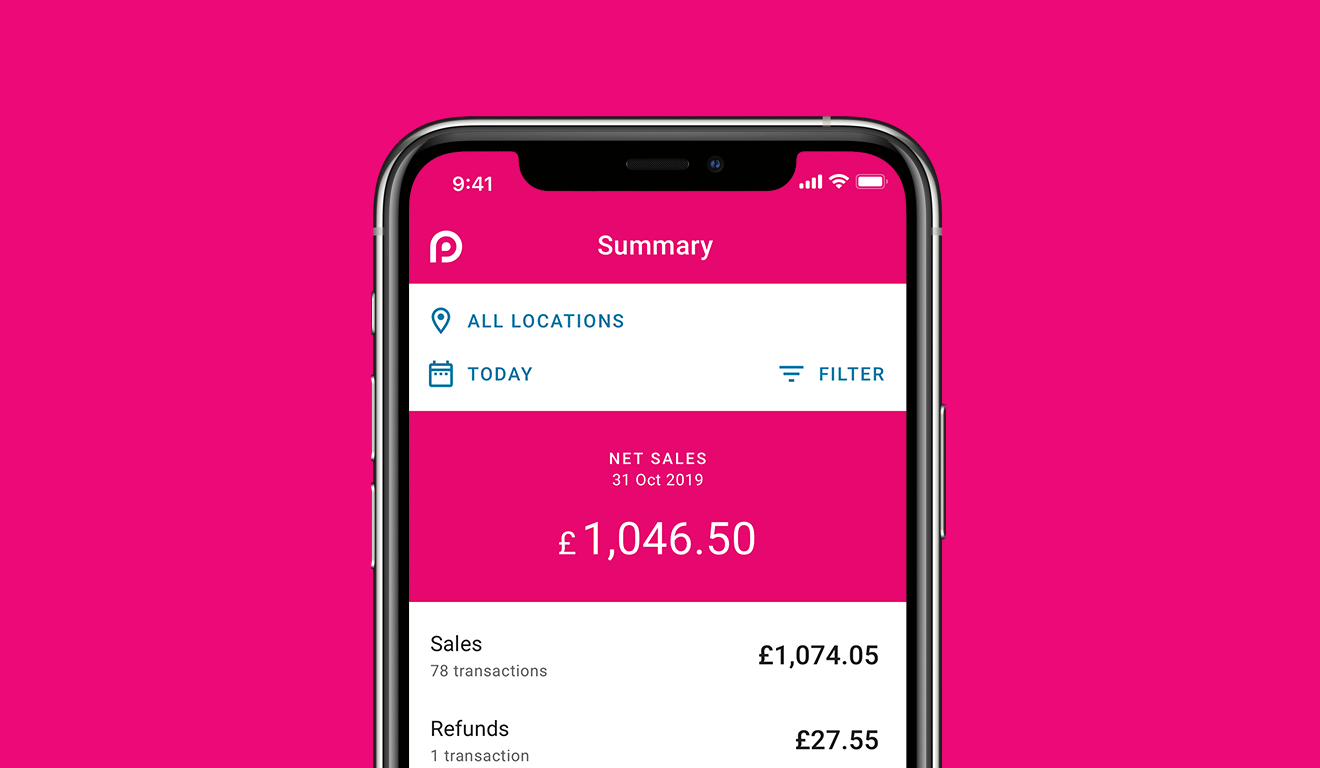 The Paymentsense app is a free insight tool that provides customers with a 24/7 view of their business performance.
It's available to customers who have Clover (formerly First Data) as the acquiring bank on their account.
Download the app today and monitor your business transactions on the go:
Need help getting started? Read the information below:
Or have a look at some of our frequently asked questions.
How to log in
Your dashboard is protected by our secure sign in process.
Enter your email address to receive a secure login link - this will be the same email address you used to sign up with Paymentsense
Check your inbox for a message from Paymentsense. Open the email and click 'Log in now' to visit your dashboard.
Each login link is valid for 24 hours and can be used once.
To change your email address or give someone else access to log in to your account, please contact us.
Your homepage summary
The summary page provides a quick view of your business performance. You can filter it by location, date or by card details.
Net sales:

This is the total net sales (sales minus any refunds you have processed)

Sales:

This is your gross sales value (prior to any refunds) with a count of your sales transactions.

Refunds:

This is the number of refunds you processed and the total value.

Average spend:

This is the average value for card transactions you have processed (this does not take into account refunds).

Highest spend:

This is the value for the highest card transaction you've processed.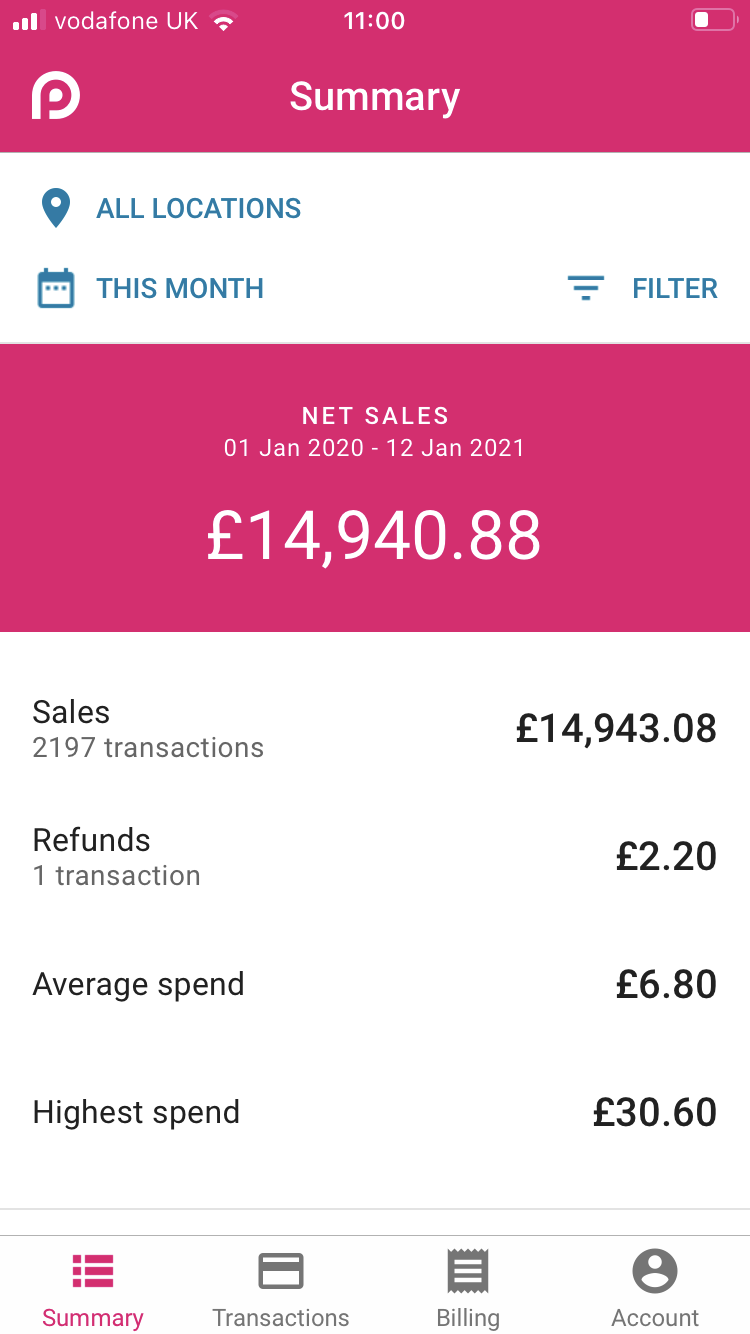 Your transactions
The transactions section of your dashboard shows you every transaction your business has processed. Simply click on a transaction to see view information, including:
Transaction date and time

Transaction ID - unique identifier for each transaction

Business location (if you have multiple sites)

Card type - Debit, Credit

Card scheme - Visa, MasterCard, Amex

Card number - only the last four digits to protect cardholder data.

Charges and fees - the price you pay for the transaction.
You can also filter your transaction by location, date, transaction type and card scheme.
Please be aware that transactions can take up to two working days to appear in your dashboard. Real-time transaction data is not available on Spire terminals, Gateway and MOTO accounts.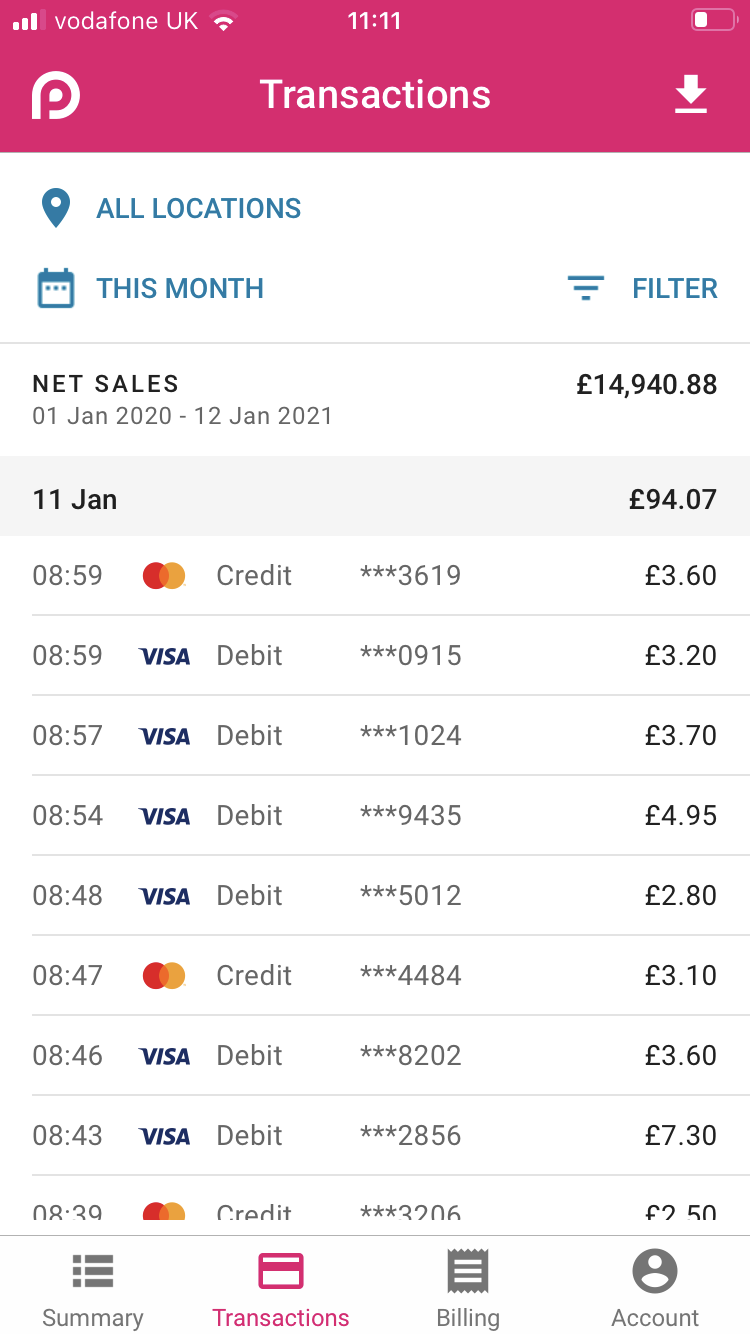 Create and download transaction reports
From the transactions page, you can also download reports. Set the date you'd like to view, choose the location (if you have more than one), and apply any filters.
Once you're happy, click the download icon, and then choose whether you'd like it as a PDF or CSV file.
For iOS you'll see the download at the bottom of your screen. Click 'share' and then choose where you'd like to export it.
For Android devices, you'll receive a notification that it's been downloaded.
Check transaction fees and charges
From your transaction history, click on a transaction to see the fees and charges applied. It will show you the services charges, as well as the interchange fee. Interchange is an industry-set fee mandated by the card schemes. Learn more about transaction charges.
View and download your bills
Visit the Billing section of your dashboard to view your monthly statements from First Data and your invoices from Paymentsense.
First Data invoices are available from December 2018. Please contact us for invoices prior to this time.
Frequently asked questions
Can't find a transaction? Please be aware that transactions can take up to two working days to appear in your dashboard.
Who is the Paymentsense Dashboard available to? The Paymentsense Dashboard is available to download for all customers supported by First Data.
What email address do I use to log in? To log into the Paymentsense Dashboard you'll need to use the same email address you used to sign up with Paymentsense.